Santa Train and Tender Car.

Product Number/Desc: GF C6440 Santa Train  nd Tender Car.

ACTUAL COLORS VARY

EXTRA TENDER CAR AVAILABLE, SEE BELOW.

General Foam Plastics Corp of Norfolk VA 23502, Christmas Decoration's.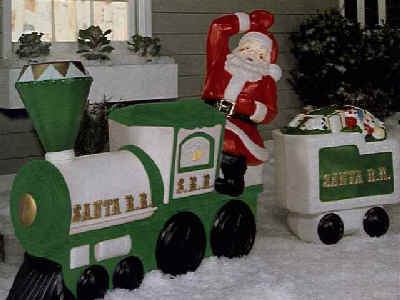 waving santa on green train, by general foam plastics corp, outdoor christmas decoration.

Choo-Choo. Back by popular demand! Waving Santa on Train and his Tender car... As you know, this is an oldie but goodie. Get them while they last. SO BIG... it ships in two seperate boxes. Once made by Empire of Carolina, now by General Foam Plastics Corp.

Availability subject to change without notice...

Item NOT GUARANTEED for delivery!

ACTUAL COLORS MAY VARY. 

NOT ANIMATED.

<!-onMouseover Link CSS Script-© Dynamic Drive (www.dynamicdrive.com). For full source code, installation instructions, 100's more DHTML scripts, and Terms Of Use, visit dynamicdrive.com-->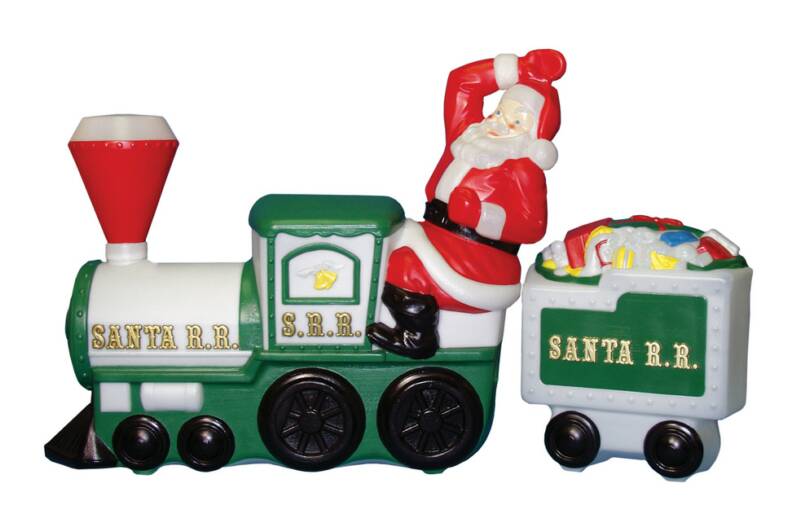 Santa Train is about 43" Long, 15" Wide and 29" Tall.

Tender Car is about 20.5" Long and 13" Wide.

EXACT MEASUREMENTS VARY.

Please DO NOT order from this shopping cart if you reside outside of the US Mainland, as we only ship within. NO GUARANTEES HERE-IN, REGARDLESS OF WHAT OUR SHOPPING CART ALLOWS. Please e us with any questions if you so desire prior to ordering.

General Foam Plastics Corp Norfolk VA 23502, Christmas, Easter, Halloween decorations.

THIS ITEMS IS A SPECIAL ORDER ITEM "AND MUST" BE ORDERED DURING THE MONTH OF APRIL FOR FALL DELIVERY. ORDERS PLACED AT "ANY OTHER TIME" WILL CARRY OVER TO THE NEXT YEAR. SO IF YOU ORDER IT IN MAY OR NOVEMBER FOR INSTANCE, YOU WILL NOT GET IT THIS YEAR. YOUR ORDER WILL CARRY OVER TIL NEXT YEAR. IT MUST BE PRE PAID AND NO REFUND WILL BE GIVEN ON THIS ITEM IF YOU HAVE COMPLETED THE CHECKOUT. THERE IS A LIMITED SUPPLY THAT WE WILL BE OFFERING. ONCE THAT SUPPLY IS GONE.... IT'S GONE!

AS ALWAYS, WE MAKE NO GUARANTEES OF DELIVERY ON ANY ITEMS ON OUR SITE, PRE-PAID OR NOT.